News & Events
---
Pricing
Bushel — Premium $30 • "#1" $25 • "#2" $20 • "#3" $15 • Deer Apples $8
Half Bushel — Premium $18 • "#1" $15 • "#2" $12 • "#3" $10
Peck — Premium $11 • "#1" $9 • "#2" $7
---
Annual Apple Sale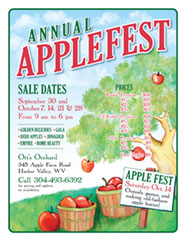 Beginning late September
through October
Check locally for signs or call
304-493-6392 for additional information.
Golden Delicious
Gala
Deer Apples
Jonagold
Empire
Rome Beauty
---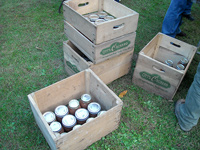 Thanks to all who joined us for our annual Applefest on October 10, 2015. We enjoyed good music by Matt Kiser and Chris Stockwell. Shared food with our community and neighbors. We invite you to join us next year for more good music, food and apple butter making. We celebrate Applefest on the second Saturday in October.




---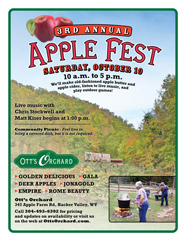 Third Annual
APPLE FEST
Community Picnic
Saturday, October 10, 2015
10 a.m. to 5 p.m.
Outdoor games, making old-fashioned apple butter and apple cider!
Live music with Chris Stockwell
and Matt Kiser begins at 1:00 p.m.
Feel free to bring a covered dish,
but it is not required.
---
In the spring of 2015, we planted thirteen varieties of "heirloom" apples.

Click here to go to the "apple varieties" page.

Apples from these trees will be available in limited quanties in the fall of 2016 or 2017.